Nel cuore del Greenpoint borough a New York, si trova A/D/O, il design centre fondato da MINI. Uno spazio di innovazione e ricerca aziendale e luogo aperto alle sperimentazioni del design. Proprio nel cortile di questo luogo dedito alla creatività è stata presentata l'installazione site specific realizza ta da UVA.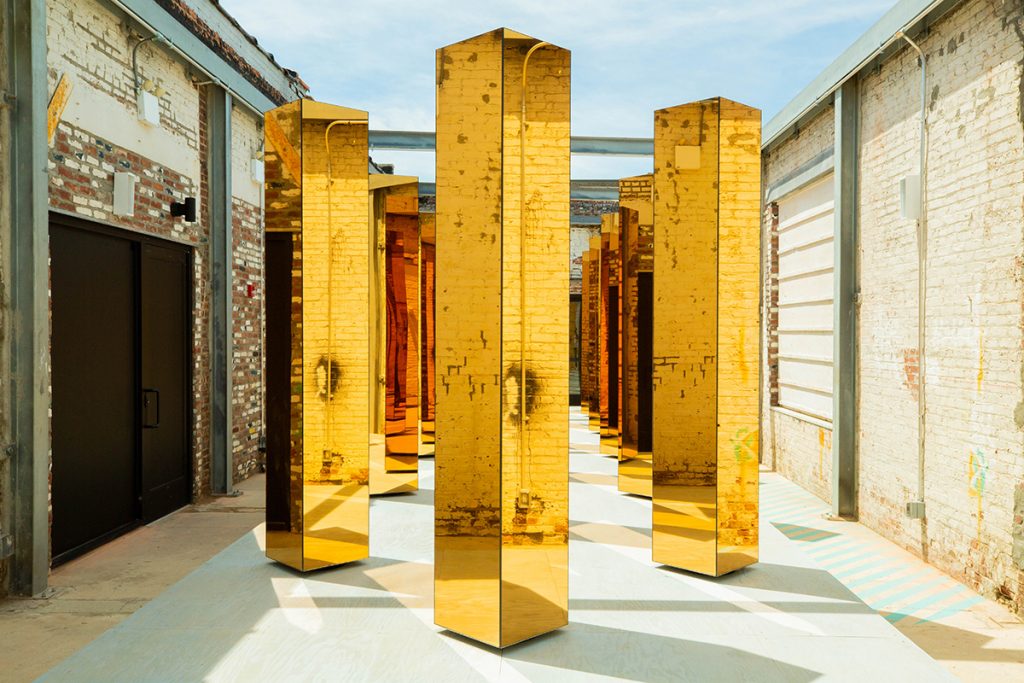 The Spirit of the City è più di una installazione, è un esperimento per sondare le reazioni fisiche ed emotive provate dagli individui quando si muovono all'interno di spazi urbani sconosciuti. L'installazione si presenta con una serie di colonne dorate alte circa 3 metri ricoperte da specchi che si muovono con ritmi diversi a seconda della luce naturale.
Per vedere il contenuto accetta i cookie e ricarica la pagina
Il dinamismo della composizione, "un comportamento in apparenza organico" poeticamente ispirato all'incessante movimento della metropoli, è generato tanto dalla continua rotazione delle colonne quanto dai moti di luce, ombra, riverbero: "metafora delle forze sotterranee che tengono le città in continua trasformazione".
Ai diversi schemi rotatori pre-programmati che si alternano nelle 24 ore corrispondono diversi ritmi urbani, riposo, dinamismo, turbolenza per rappresentare i livelli di attività umana nella giornata definiti in base a diagrammi sul consumo di energia o sui flussi di traffico.
Non si tratta tuttavia di un progetto di visualizzazione dati", chiarisce Matt Clark, fondatore di UVA,
"più semplicemente volevamo creare una struttura che potesse sostenere il concetto di ritmo espresso nell'installazione stessa". "Non è ispirata ai dati, ma all'attività umana collettiva e a un più vasto organismo vivente", la città e gli abitanti che ad essa reagiscono. Anche in modo emotivo e viscerale, come dimostrano i visitatori che 'navigano' nell'installazione.