In occasione del 110esimo anniversario della nascita di Charles (il 17 giugno), Iglooo ricorda la coppia che ha lasciato un segno indelebile nella storia del design del XX secolo: Charles e Ray Eames
Eclettici ed innovativi i loro nomi sono indissolubilmente legati: lui architetto, lei pittrice visionaria. I due si incontrano a New York e dal 1941 si trasferiscono in California dove esprimono la loro passione ed intuito per le forme morbide ed innovative diventando pionieri del design organico, caratterizzato da linee fluide e morbide, una progettazione olistica, in sintonia con l'ambiente circostante.  
Tra i progetti che hanno segnato l'ascesa dell'architetto la produzione artistico-industriale realizzata con l'amico finlandese Eero Saarinen progettata per una competizione indetta dal Museum of Modern Art di New York. Il progetto dell'organic design chair (1940) vinse, anche se non poteva essere realizzato: al tempo non esistevano ancora i supporti tecnologici per modellare i fogli di compensato per realizzare la sedia così come pensata dai due designer.
La sedia fu prodotta per la prima volta nel 1950Image credit
D'altronde anche le forme morbide della LCW furono realizzabili solo grazie ad anni di sperimentazioni sulla produzione di scocche di sedute in legno multistrato modellate tridimensionalmente che si adattassero alle forme del corpo umano. Dopo questi esperimenti la coppia si concentrò sulla sperimentazione della plastica nel design. La Chaise è una poltrona in fiberglass, realizzata grazie alla potenzialità espressiva della fibra di vetro curvata a caldo, questa sedia è ispirata alla Floating Figure realizzata dello scultore Gaston Lachaise. Il progetto si aggiudicò il secondo posto all'"International competition for low-cost forniture design" indetto dal MOMA.

Tra i prototipi anche la DSR – Dining Sidechair Rod – elegante sedia monoscocca con base cromata e la Wire chair, una variazione sul tema della seduta a conchiglia che combina la leggerezza trasparente all'evoluzione tecnologica.
Nel 1956 Ray e Charles Eames firmano il progetto della Lounge chair and ottoman, nella storia del design internazionale tra le poltrone più apprezzate dalla critica e dal pubblico. Anche la struttura della celebre Lounge chair rappresenta il risultato di una sapiente sperimentazione nella curvatura dei fogli di legno compensato. Il design invece è ispirato alla sagoma di due mani intrecciate tra loro. Considerato un pezzo di cultura americana, il progetto incarna l'ottimismo americano anni Cinquanta.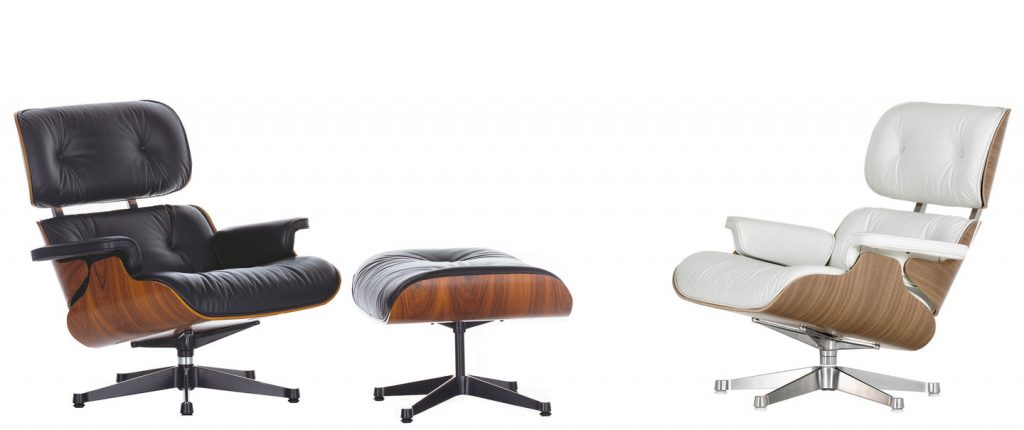 Una icona di stile che combina il design più raffinato con un sapore vintage.